Application
(last update: 18/02/2022)
The requirement to apply to the Master is to hold an undergraduate degree in either psychology or economics. Please also note that all classes are given in English, in which an advanced level is thus required.

The natural entry level is the first year of the master (Master 1 / first year graduate). Direct applications to the M2 are possible, but candidates need to have prior bi-disciplinary training, with Bachelors degrees in both economics AND psychology. Applicants to the M2 are thus strongly encouraged to apply to the master 1 year as well (admission to the first year is not possible for second year applicants unless an application has been received for each of the two years).

The application process depends on three criteria: the major of your last degree, your nationality and your current country of residence. The guidelines applying to each of the three resulting cases are described in turn below. Applicants will receive notification of the admission decision within two months of the last day of the application period. If you are admitted, the program starts in early September.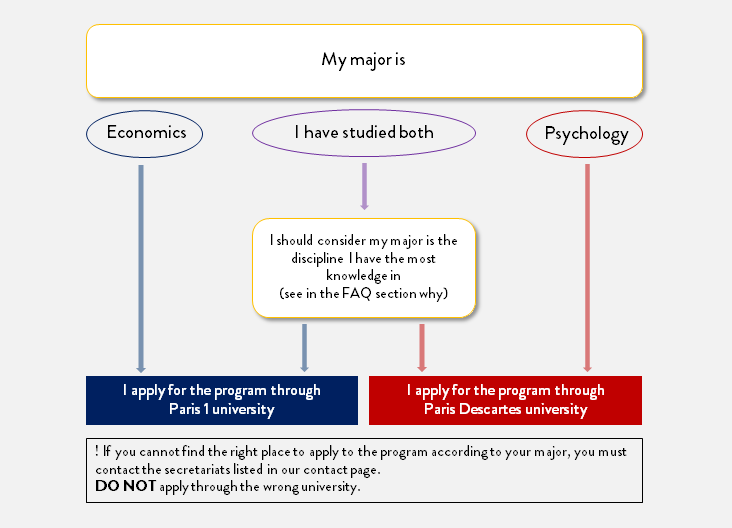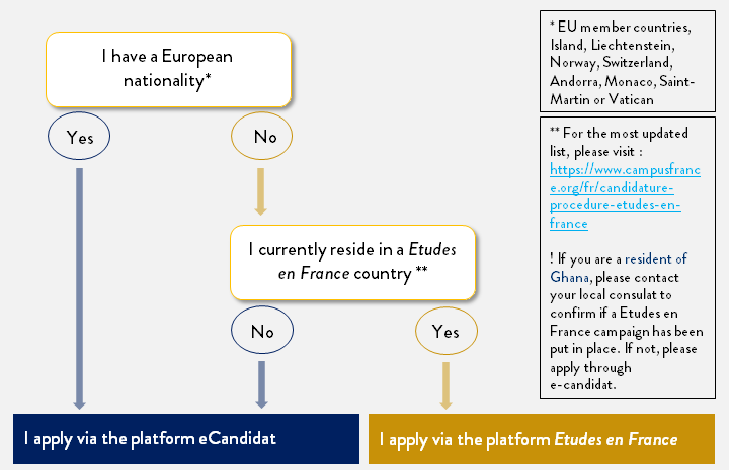 ♦ Required documents for both majors 
A detailed CV in English (CV détaillé);
A cover letter in English describing your interest in the program, accomplishments, and future plans (lettre de motivation);
Certified English translations of your academic transcripts (if in another language than french or english) and a copy of your Bachelor's Degree in either Economics or Psychology (Copie de vos éventuels diplômes universitaires (équivalents à la licence, par exemple) ainsi que de vos relevés de notes universitaires. Si ces documents ne sont pas en français, ils doivent être accompagnés d'une traduction -- ou rédigés en anglais);
A copy of your passport  (Copie d'une pièce d'identité);
Required: a C1 level in English (https://www.ets.org/toefl, Ielts) or a long enough experience in an English speaking environment or proof of validated university courses taught in english or for Paris 1 Bachelor's students registration in at least two english-taught courses in thrid year ; see FAQ
****Due to the exceptional circumstances caused by the current COVID-19 pandemic, the TOEFL exam can be taken online.****

Optional: Letter(s) of recommendation (Lettre(s) de recommandation rédigée(s) par vos professeurs et/ou employeurs)--letters can also be sent directly by email to the administrative staff in charge (Paris 1 for Economics track and Université de Paris for Psychology track, see the

contact

page).
All documents will be uploaded on one of the two online platforms, no postal mail is needed.
! Please note, as Campus France asks for a neutral application and it is not possible to attach a motivation letter, please send an english version (of the motivation letter only) to your track's secretariat as for letters of recommendation.

♦ Application dates according to your major 

                                                      ….. with a major in psychology:

 
Application must be made online through Ecandidat https://ecandidat.app.u-paris.fr/sh1 between April 4 and May 2, 2022 or Etudes en France. For further information, please contact: This email address is being protected from spambots. You need JavaScript enabled to view it. or visit https://psychologie.u-paris.fr/formations-scolarite/candidatures/candidater-en-master/



                                                      ….. with a major in economics:

**** The current COVID-19 pandemic does not impact our application deadlines ****
The application must be made online, through e-candidat between March 21 and April 4, 2022 or Etudes en France between December 1 and December 31, 2021  -- to apply to the master choose the option "Master 1 Economie parcours économie-psychologie". The interface of eCandidat is in french, Please find the following tutorial in english (here). For further information, please contact: This email address is being protected from spambots. You need JavaScript enabled to view it..

 Please remember to read this page and the FAQ below carefully before sending your request.
Please fill out this form if you wish to receive a notification when the application process information has been updated for the 2022-2023 campaign.


Immigration requirements


If you enter the Master, you are responsible for the compliance with immigration rules. If your country of origin is ....

                  ... one of the 28 European (see http://europa.eu/about-eu/countries/index_fr.htm), the e-candidat registration is enough;
                  ... one of the 32 "EEF" countries, please check on Etudes en France;
                   ... otherwise: contact the French consulate of your country of origin. 
Fees & scholarships 
Application is free, no fee to apply.

Tuition fees. All students pay the same tuition fee (French nationals or not). This is approximately 250 euros a year.). Please check official websites for the exact amount, to be adjusted each year (for Paris 1 : https://www.pantheonsorbonne.fr/inscription/frais-dinscription). This fee is paid for Master 1, and again for Master 2. Please be aware new fee policies can be voted at the start of the new year.

Scholarships. There are some grants (1 or 2 per year) to cover most living expenses, designed for foreign students who have excellent academic records. For more information, please visit this page https://international.pantheonsorbonne.fr/en/join-paris-1-pantheon-sorbonne/full-degree-student.
FAQ
I have a degree in a field related to Economics (BA, Finance, etc), what courses do you primarily look at during application ?
We primarily look at your level in Economy fundamentals such as micro-economy, statistics and economic principles, regardless of which diploma you took them in.
Is a research project coherent with this master ? What kind of job can I find after completion of the program ?
Training for research (applied and academic) is our main focus. See the students section of the website for our most recent placement survey.
Is there a minimum required score for english proficiency tests, such as the IELTS ?
No there is not, it should correspond roughly to a C1 level or higher.
Is there a minimum length for an experience in an english-speaking environment to be considered valid ?
This is left to the appreciation of the applicant.
Is there a minimum grade point average required ?
Candidats for this Master come from all over the world. As such, many applications do not conform to the grade point average system. We have not established a required minimum.
I graduate in July/September, can I still apply ?
As long as you provide proof of graduation before the beginning of classes in September, you can apply.
I already have the equivalent of 240 ECTS in Economics, can I apply directly to the M2 ?
To be accepted directly in M2, we ask that you have the equivalent of a bachelor's in Economics AND Psychology. If you are unsure you have that level, you can apply to M1 and M2 at the same time.
I have studied Economics and Psychology, which track should I apply to ? 
In this case, we advise you should apply to the track you have most knowledge in, as the first year and particularly the first semester you will be trained in the other discipline. 
Do I need to have knowledge in french to attend this master ?
The courses for this program are entirely taught in english. We ask for optional proficiency in the french language to facilitate your interactions with the broader administration of the two partner universities and your daily life in Paris.
Can I learn french while participating in this program ?
Yes, if you are accepted you can follow french as a foreign language classes (FLE).
If my original transcripts are in english, do I need to translate them in french ?
No need.
If my original transcripts are in french, do I need to translate them in english ?
No need.
If my original transcripts are in a language other than french or english, do I need to translate them?
Yes, they must be certified in english.
I am applying for a grant in my home country and I need confirmation my profile is adequate for your program, can you review my transcripts ?
In this case it is possible. Please send documents on which base to make the assessment to the secretariat.
I may qualify for a grant in my home country if I have a letter of acceptance from your program, can you review my application early ? 
To ensure equal treatment of all applications according to the french law, we review them all at once. (except in the case of the french government Eiffel scholarship program)
I have questions I would like to ask directly to the teachers or directors of the program, can I schedule an interview ?
To ensure equal treatment of all applications according to the french law, we cannot organise interviews or visits for an individual prospective applicant. Please direct your questions by mail to the contacts listed on this site or attend the next annual open day event of the Sorbonne School of Economics during which you can meet current students, the program is presented and you can ask questions directly to the directors.
How many students do you accept each year in M1?
We accept a total of 40 students, subdivided in 20 Psychology majors and 20 Economics majors.
I have a job, can I follow this program part-time or online ? 
No, students must be present at all classes and examinations.
I applied for the Economics track, when can I expect an answer ?
You can expect a first answer two months after your application at the latest.
With the current covid pandemic, are you more flexible with the application campaign dates ?
We follow officialy voted application campaign calendars. The updated dates are not expected to change. If the deadline has passed and you are interested in our program, please monitor our website and apply next year.
With the current covid pandemic, is there a risk that even though I am admitted I will not be able to arrive in France ?
At the time of visa applications, french consulates make sure universities can welcome international students in good conditions. If you are admitted and receive a visa, you will be able to attend the program.
I am an applicant from the Paris 1 Sorbonne School of Economis bachelor, how can I prove my english proficiency level ?
You can provide any of the accepted documents listed above or your "inscription pédagogique" for the third year of your bachelor including at least two courses taught in english. We do not necessarily required the grade, just that you registered for the courses.
You are here:  

Application